Ce qu'avait écrit Beji Caid Essebsi au Comité Nobel en 2015
Il y a quatre ans en 2015, Beji Caid Essebsi envoyait une lettre au comité Nobel pour proposer le quartet tunisien (UTICA, UGTT, LTDH et l'ordre des avocats) au prix Nobel de la paix, qu'ils avaient obtenu cette année-là.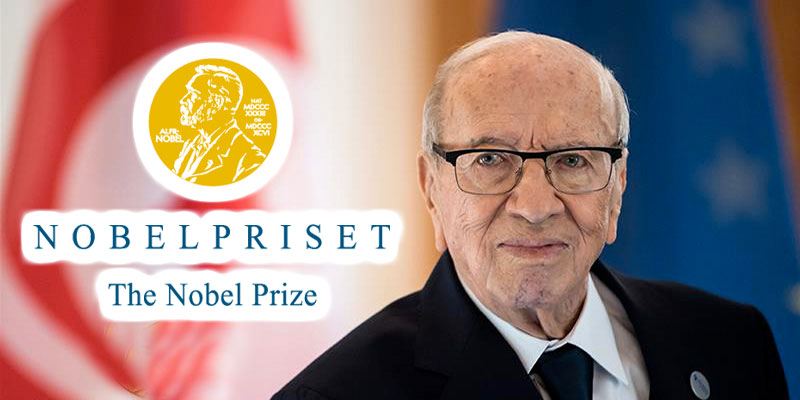 Voilà le texte de cette lettre :
Dear Members of the Committee,
I have great pleasure to put forward the nomination of the Quartet formed by the Tunisian Confederation of Employers (UTICA), the Tunisian Labour Union (UGTT), the Tunisian league of Human Rights (LTDH) and the Tunisian Order of Lawyers for the 2015 Nobel Peace Prize.
As you well know, Tunisia has just whim 3 new page in its own history, and in the history of democracy. It is clear that the 2011 revolution would not have succeeded without the active intervention of the Quartet.
In a post-revolution, period, when the country was threatened by civil war and rising violence and fundamentalism. The Quartet managed to impose peace and stability. In a tense social and political climate. The four organizations took the initiative to set up a national dialogue, which saved the count, and led to a national consensus. This consensus enabled a new constitution to be adopted and opened the way for a peaceful transition towards democracy.
Today, the efforts of the Quartet have enabled Tunisia to star building a democratic society based on the rules of law and the respect of universal values of freedom and justice.
This nomination clearly deserves to be considered and honored for two main reasons:
- First, it will be a tribute to Tunisia, a small nation that gave the world a great lesson in courage and perseverance. It is a way to recognize the Jasmine revolution.
- Secondly, this nomination will restore the notions of real value to consensus and to dialogue in a world dominated by conflicts.
Tunisia has proved to the world that a peaceful revolution is possible and could lead to democracy.
By awarding the Nobel Peace Prize to the Quartet, you would give strong symbolic recognition to an unprecedented pacifist action in the Arab world and a resolute message of hope, understanding and tolerance.
Today the world is in great need of consensus and dialogue, hope, understanding and tolerance.
Yours sincerely.
Beji Caid Essebsi