La Bourse de Tunis, nouveau membre de la World Federation of Exchanges
La World Federation of Exchanges (WFE) vient d'ocialiser l'adhésion de la Bourse de Tunis en tant que membre à part entière, lors de sa 58ème assemblée générale annuelle qui a démarré le 3 octobre 2018 à Athènes.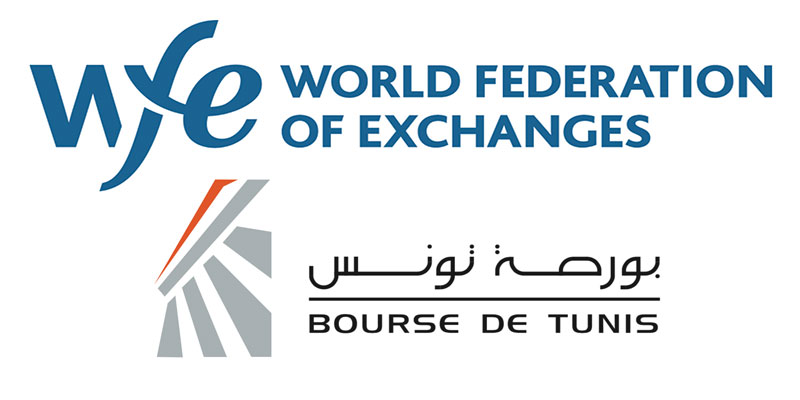 Après les statuts de Correspondant puis d'afflié, le statut de membre marque l'aboutissement d'une longue procédure d'adhésion au bout de laquelle une revue des processus ectuée par des pairs (Nasdaq, Bourse de Shanghai, Bourse des Bermudes) au cours d'une visite efectuée en Tunisie au mois de février 2018, ait fait l'objet d'un rapport positif au Conseil d'Administration de la WFE réuni en Juin 2018.
Cette mission d'évaluation a conrmé que la Bourse de Tunis, le régulateur, le dépositaire central et l'ensemble des intervenants du marché financier tunisien répondent aux principales normes et exigences de la WFE en termes de conformité aux principes de marché, d'effcacité et de bonne gouvernance. Ces normes portent sur des sujets aussi divers que l'organisation du marché, l'égalité d'accès au marché, l'admission aux négociations, les négociations, les services du dépositaire, la supervision, la résolution des conits, les traitements des plaintes….
Après les récentes améliorations de l'appréciation de la Tunisie par MSCI et FTSE, le statut de membre de la WFE, accordé à la Bourse de Tunis, permettra de renforcer la visibilité du pays et des entreprises cotées à la Bourse de Tunis auprès des investisseurs étrangers, notamment institutionnels.
La WFE considère que pour qu'un marché boursier joue pleinement son rôle macroéconomique, il doit adhérer aux meilleures pratiques et respecter les standards xés par les autorités compétentes dans l'industrie des La WFE est la principale association internationale de bourses et de chambres de compensation. Elle réunit 70 membres représentant plus de 200 infrastructures de marchés. Les bourses membres regroupent plus de 45 000 sociétés cotées avec une capitalisation boursière de plus de 82,5 trillions USD.
WFE travaille avec les institutions et acteurs normatifs, les décideurs politiques, les régulateurs et les organisations gouvernementales pour promouvoir le développement de marchés équitables, transparents, stables et effcients. La WFE partage avec les autorités de régulation leurs objectifs de préservation de la sécurité et la solidité du système financier global.